Disney World Hacks by Dia Adams

Planning a trip to Disney World?
Planning a trip to Disney World? Learn the tips, tricks, secrets, and hacks that only the savviest know.
What are the 12 Disney World Resorts you should avoid?
What 6 restaurants- that don't need reservations- should be on your short list?
What 4 questions should you ask before you go?
What 3 Disney World resort hacks will save you thousands?
Where are the 2 secret Disney World outlets?
What Disney World meal comes with free childcare?
Learn all of this and much more with Disney World Hacks.
Ask most travel hackers about Disney trips and you will get a blank stare. Hacking a Disney vacation is supposed to be notoriously difficult. However, as Walt put it himself, "it is kind of fun to do the impossible!"
Disney World Hacks is for people who want to maximize their Disney World experience without emptying their pockets and spending hundreds of hours planning the trip. The book covers both planning and on-the-ground hacks that will save you time and money.
I am here to give you a ground level, no bull, action-oriented set of tips and tricks that will save you time and money on what can be the most stressful trip you might ever plan. The information in the book cover items that anyone can do without having to become fluent in Disney-speak!
About the author: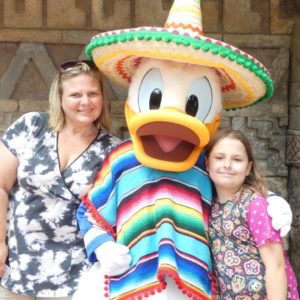 Dia Adams is the author of TheDealMommy.com, an established and successful site devoted to family travel. The Deal Mommy is listed on a number of top family travel blog lists and has been featured in many established media outlets.
Between growing up foreign service and working in consulting, she built up a serious love of travel that included visiting over 40 countries and living in Thailand, China, and Ireland (where her son was born).
Her love of travel is only eclipsed by her love of all things Disney. After two kids came along, she struggled to balance her passion for travel with the realities of, well, real life with two kids.
Dia has been able to show her kids the world while still maintaining her savings and sanity.
She is also the resident travel hacker at Travelingmom.com. Many Disney planning questions on Google lead to her answers.